Immersion Days at LAE Tottenham
---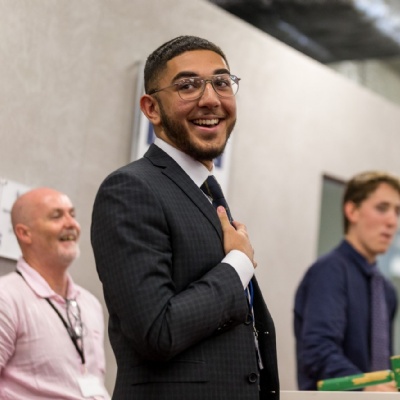 Get a taste of A Level study.
Immersion days at LAE Tottenham are designed to give prospective students the opportunity to have a taste of A Level study in either STEM or Arts subjects.
On the STEM day, students begin with a scenario within which they will need to use their scientific and technological knowledge. Activities will vary from understanding the different techniques for dissection, using mathematics to understand what is means to test positive for diseases, to testing materials to destruction. This gives a feel for the interactive and practical nature of STEM learning at A Level.
Our Art, Humanities and Social Sciences day will focus on representations and connections. Below is a breakdown and description of the workshops that will be on offer.
| | | |
| --- | --- | --- |
| Subject | Title | Description of activities |
| Art | Language and Art | Historical and contemporary contextual presentation of artists. Printmaking practical workshop. |
| English Literature | Interpreting Drama at A-level | Reading a drama extract together in a circle, acting it out and discussing it. |
| Economics | What will I be paid? | Examples of activities will include a quiz based on the Sunday Times Rich List, pay matching activity using average pay rates for a range of jobs. |
| French | Aspects of Francophone society | A critical look at the representation of women in French advertising. |
| Geography | Conflicting representations of places | Why did Slough want to rename itself as Slough-on-Thames? What are the contrasting representations of Tottenham and who make these choices? |
| History | Representations in History: using and abusing the past | Examine a range of primary sources to appreciate how the Boston Massacre was represented differently in England and America. Evaluate how important the Massacre was in driving the American Revolution. |
| Politics | Conflicting models of democracy in the Brexit era | Is a second referendum democratic? Does representative democracy trump direct democracy? What is 'tolerance'? |
| Spanish | Aspects of Hispanic society | Learning about the importance of Spanish traditions. |
You can sign up to attend one or both immersion days which are listed below. Both days promise to be a thought provoking taste of academic A Level study.
Saturday 19th January, 9:00am – 12:30pm (Art, Humanities and Social Sciences)
Saturday 26th January, 9:00am – 12:30pm (STEM)
Refreshments will also be provided for all in attendance.